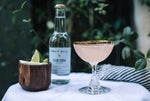 From the Collins cocktail family comes our Rich Collins –  Tom's older, cooler brother who drinks our Club Soda like it's water. Try it in Rich's cocktail to ring in the New Year and celebrate your new bar addition!
What You'll Need:
8 ounces gin
2 oranges juiced
1 lime juiced
1 lemon juiced
1/4 cup cooled simple syrup (see below)
12 ounces of Navy Hill Club Soda
lime wedges and fresh herbs (i.e. mint,thyme, basil) – optional garnish
What You'll Do:
To make the simple syrup, place the sugar and water in a microwavable bowl or liquid measuring cup and heat on high for 60 seconds. Remove from microwave and stir until sugar is dissolved. Let cool.
Place the first five ingredients in a large pitcher (gin through lemon juice) and stir well.
Fill four cocktail glasses or copper mugs with ice. Pour in gin mixture until glass is 3/4 full.
Top each glass off with club soda then garnish with lime and herbs to serve.