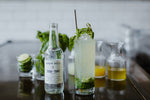 What You'll Need:
1 part gin
1 part Navy Hill Juniper
cucumber + basil leaves
What You'll Do:
Muddle several basil leaves and cucumber slices in the bottom of your glass. Add ice, gin, your favorite Navy Hill sonic and stir. Optional: spear a few basil leaves and a cucumber slice for garnish!