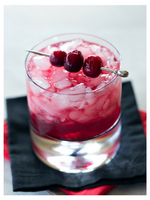 Upgrade your holiday cocktails! Meet the Navy Hill Cranberry G&T. Recipe below!
What You'll Need:
2 oz Botanist Gin
1.5 oz Navy Hill Original
.5 oz simple syrup .5 oz lemon juice 
1 heaping bar spoon of cranberry sauce 
Lemon wheel 
What You'll Do:
In a cocktail shaker, combine the gin, simple syrup, lemon juice and cranberry sauce. Shake with ice for about 10 seconds and strain into cocktail glass. Stir in Navy Hill and garnish with a lemon wheel.