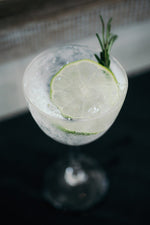 Nothing goes better with Spirits than Navy Hill! Enjoy this cocktail over the rocks with your favorite tequila and Navy Hill's Juniper Tonic Water to raise your cocktail game!
Make the recipe below or create your own and share it with us!
What You'll Need:
1 part Milagro Reposado Tequila
2 parts Navy Hill Juniper
Pineapple
Lime
Sage
Pour. Mix. Stir.
Courtesy of Michelle Shriver, Owner / Dutch and Company