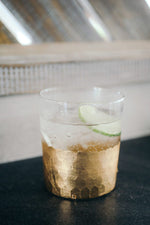 For a quick fix, try our Scotch Tape cocktail with Navy Hill's Original Tonic! Mixed with Scotch, Navy Hill, and Lavender Honey, this cocktail is sure to fix any problem you need fixed!
Try our Scotch Tape at home with Navy Hill's Original Tonic!
What You'll Need
1.5 oz Blended Scotch (we prefer Monkey Shoulder)
.5 oz Lemon Juice
.5 oz Lavender Honey Syrup
Shake and top with Navy Hill Original Tonic
Put a Lemon twist over the glass
Lavender Honey Syrup
Heat equal parts honey and water until it's blended. Remove from stove and add dried lavender flowers, letting sit covered for an hour. Strain and refrigerate for up to 3 weeks.