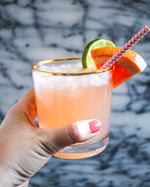 For the perfect love potion or delicious libation this Valentine's Day, turn to your favorite cocktail mixer made from Lovers in Virginia. Break the ice, ignite that spark or toast to love with our Sipper of the Hour! Look for Navy Hill at all the best bars in Richmond – after all, Virginia is for Lovers.
What You'll Need:
2 (2″x1″) chunks fresh grapefruit, plus wedges to garnish
3⁄4 oz. simple syrup
1 oz. gin
3⁄4 oz. Aperol
3⁄4 oz. lemon juice
1 oz. club soda
What You'll Do:
Muddle the grapefruit chunks and simple syrup together in a cocktail shaker. Add the remaining ingredients, fill shaker with ice, and shake vigorously. Strain over into a wine glass filled with crushed ice and serve garnished with a wedge of grapefruit.