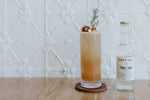 What You'll Need:
1 part tequila
1 part fresh lime juice
1 part fresh grapefruit juice
1 part Navy Hill Ginger
spring of rosemary
What You'll Do:
Enjoy this refreshing summer favorite on a warm day, or to warm you up on a cold one! The fresh burst of grapefruit and lime blends with smooth tequila for perfect sipping cocktail. Mix all of the ingredients and serve over ice with a fresh sprig of rosemary for a fun twist. Optional: add a salted rim!