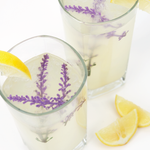 What You'll Need:
1 cup sugar + extra for rimming the glass
1½ Tablespoons culinary Lavender
1 cup water
¼ cup fresh squeezed lemon juice
1 slice lemon
½ cup Navy Hill Tonic Water
1 shot (1.5 ounce) vodka
What You'll Do:
Heat sugar, lavender and water in a small saucepan. Let cool. Strain Lavender. Refrigerate.
Rim a highball glass with sugar. Fill the glass with ice and a slice of lemon.
In a shaker filled with ice, combine 1 Tablespoon of the simple syrup, lemon juice, Navy Hill Tonic, and vodka and shake until cold.
Strain into ice-filled glass.