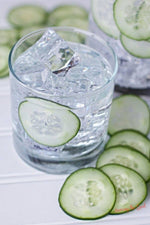 What You'll Need:
6 Persian cucumbers, divided (about 1 pound)
8 (2 1/2-inch-long) strips lime rind
1 1/2 cups gin
1/2 cup fresh lime juice
1 lime, thinly sliced
5 cups Navy Hill Tonic Water, chilled
What You'll Do:
Step 1: Cut 4 cucumbers into 1/4-inch-thick slices (about 2 cups). Muddle sliced cucumber and rind in a large measuring cup or bowl. Add gin. Cover and refrigerate 12 hours and up to 3 days.
Step 2: Strain cucumber mixture into a pitcher; add juice. Slice remaining 2 cucumbers; add to the pitcher with sliced lime. Add Navy Hill tonic Water just before serving. Serve in ice-filled Collins glasses.