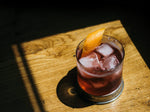 This week, we found our cocktail inspiration in menswear, no less.  Sometimes, finding the perfect combination of liquor and mixer is not so different than balancing out that trendy jacket with a classic button-down.
To help us in our pairing objectives, we turned to Richmond's refined new clothing store in Scott's Addition, Jackson & James.  "A men's store with a focus on craftsmanship, the makers behind the clothing and accessories and the story the comes along with everything it sells."
Nothing beats a first impression – so landing on the right look to reflect your personality takes some thought, foresight and creativity.  Comfort always wins, so start there.  Step into your favorite pair of KATO jeans and pour your go-to liquor over ice.  Add a splash of color with a Bridge & Burn pocket tee and top it with a functional, distinctively classic shirt by Telleson.  Mix a little bitters, simple syrup or citrus to your high-ball.  Finish it off with Navy Hill – go with the flavor that best reflects your vibe.  Add a masculine twist with a handmade belt by woodnsteel and garnish your cocktail with a mint sprig or cinnamon stick.
The interior at Jackson & James is enough to rev up your style game.  Pull a few items from the racks and see what it feels like to craft the perfect ensemble.  Thankfully, there's a full bar with a handsome array of accoutrements to build an ace cocktail that goes well with your new-found fashion confidence.