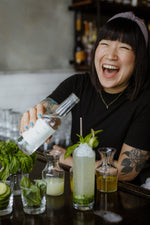 Sophia Kim is slinging the most inspirational cocktails in Richmond. This year, she won the 2019 Woodford Reserve Manhattan Experience competition.
Check out her take on a classic Endless Summer sipper below.
Endless Summer Charmer 
What You'll Need:
Fresh Cucumber, Basil
1/4 oz. Citrus Oleo*
1/2 oz. Lime
1/2 oz. Pineapple
1/2 oz. Mezcal
1 oz. Tequila
Top with Navy Hill Ginger Soda/Tonic
What You'll Do:
Directions: In a collins glass, gently muddle two slices cucumber, 3-4 leaves basil, and 1/4 oz. Citrus Oleo. Add lime, pineapple, mezcal, and tequila. Add crushed ice. Be careful to keep the cucumber and basil at the bottom of the glass. Swizzle until drink is super cooled. Top with Navy Hill Ginger and more ice. Garnish with basil leaf. Enjoy!
*Citrus Oleo:
Peel 1 Grapefruit, 4 oranges, 2 lemons. Combine zest with equal amount of sugar (by weight). Muddle and let rest, covered, in refrigerator overnight. Strain off liquid and store in refrigerator up to 1 week.